Integrity Merchant Solutions is an industry leader offering reliable and affordable payment processing solutions.
Our merchants have access to robust payment options creating the least amount of friction at the point of sale, including touch less technology, text to pay, digital invoicing, tap to pay, mobile payments, and everything necessary to accept the various card types now in the hands of American consumers.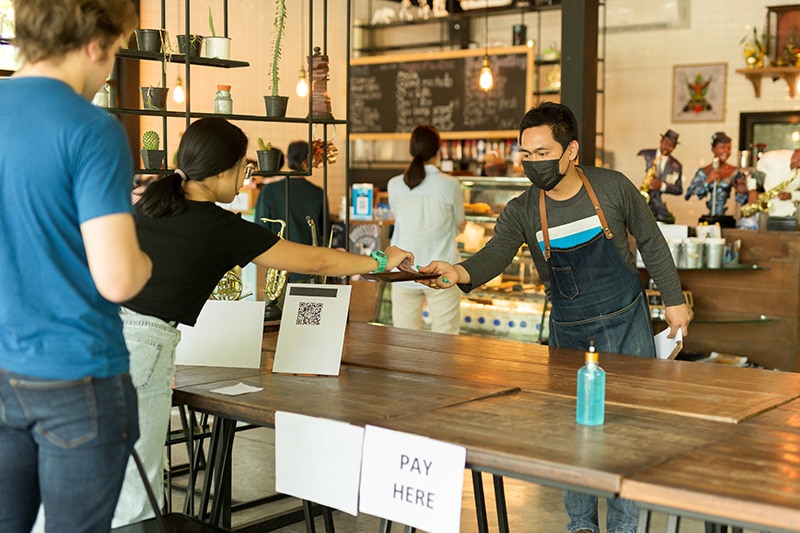 The business world has changed.
Will your business innovate or evaporate?
There are many ways to adapt to the changing world environment.
We help businesses continue to take secure payments, while making their customers feel comfortable buying their products/services.
See How We Can Help
Our mission at Integrity Merchant Solutions is to reduce and contain credit card fees for our clients through education, innovative technology and ongoing support.
No Processor Fee Increases
IMS is a private corporation unaffected by the pressures public corporations have to report greater profits by increasing margins on existing clients. IMS provides true cost containment, an elite group of expert consultants, individualized personal customer service and the benefit of knowing our clients have NEVER had a price increase. Our founders have worked tirelessly to avoid working with any processing partner removing our ability to maintain a 'no increases' solution for our clients. Very few organizations in our space, if any, can deliver this promise.
An EMV chip increases the security and decreases the risk of your customer's credit card by creating a unique code, which unlike a magnetic strip can only be used once, making fraudulent transactions more difficult.
Google Pay is the fast, simple way to pay online or make contactless payments with your phone. Your payment info is protected with multiple layers of security so you can pay with peace of mind – all the time.
Apple Pay is easy and works with the Apple devices you use every day. You can make contactless, secure purchases in stores, in apps, and on the web. And you can send and receive money from friends and family right in Messages. Apple Pay is a safer way to pay, and even simpler than using your physical card.
Pay Now technology is a funds transfer service that allows users to transfer money to someone else's bank account by simply entering their phone number or email address.
Tap and pay is a safe and simple way to pay by tapping a credit card or device against your card reader to pay instead of inserting a card. It is an easy touch-free way to make a payment.
Recurring payments offer the peace of mind knowing the payment will be made automatically, at a certain interval.
Innovative payment and security solutions designed to increase customer ROI by increasing revenue, while decreasing costs and risks.
IMS holds cardholder security as our first priority. We continually add tools and technology to protect data and advise you in becoming PCI compliant to minimize fraud and avoid penalties.
All of our stand alone terminals include technology that makes managing payments easier, safer and smarter.
Enjoy the peace of mind that comes from advanced fraud protection and security features.
Experience easy internet set-up for all stand alone terminals using your existing broadband connection.
We offer the latest technology with the ability to integrate with 100's of POS software systems. In addition, access to the full suite of Clover products to transform the way you work by helping track inventory, manage employees, drive customer loyalty and accept payments all on a single dynamic system.
IMS has a payment processing solution to suit every business.
With an unmatched product range and a depth of knowledge across most industries, we provide value to our clients every day.
Amy Russell, Operations/Finance Manager
Promo Logic made the switch to IMS several months ago and we have been very pleased with the entire process from start to finish. The transition to IMS was seamless with the help of their knowledgeable staff and the best part is we are saving money each month with much lower transaction fees. In addition, we love the feedback that we have received from our clients who have been impressed with the professional look of the payment system as they finalize their transactions online.

I made the switch to IMS in 2018 when I realized how much money I could save on our credit card processing costs. Since then, I have acquired additional businesses, all of which I have moved to processing with IMS because the experience is seamless, transparent and personal. There are no hidden fees, my rep educates me on industry best practices, and whenever I have a question- the response time is the best I've experienced. No 1-800 number, no wait time. I highly recommend IMS and look forward to doing business with them for years to come!

Dr. Seth Kabakoff, DMD, HDS President
Associates In Endodontics
There are very few ways to decrease your office overhead. Working with Integrity Merchant Solutions our practice is on track to save 30% this year.
The transition was seamless. We should have started our relationship with IMS years ago. Don't wait like we did.  Contact them for a risk-free evaluation.

Mark B. Vye, C.P.A., President
Connecticut Multispecialty Group
CT Multispecialty Group has been working with IMS for the last year. Our 25+ location practice has saved thousands of dollars, a 38% savings, and the transition to their services was seamless and not disruptive to the practice.
Most impressive is their impeccable customer service and quick follow-up when we have questions. We truly feel like we have a great partnership.
I highly recommend your giving IMS a call and letting them do a free, no-obligation savings analysis. You have nothing to lose and everything to gain!

Mary Moses Kinney, Director
Independent Jewelers Organization
IJO has a long-standing relationship with IMS. IMS has consistently provided a very competitive program to our membership along with a superior level of customer service. We constantly receive positive feedback from our members regarding their interactions with IMS. All questions or issues are handled promptly and courteously.
IMS understands the value of the referral relationship. They know their day-to-day interactions with our members directly reflect on our organization as well as theirs. IMS goes above and beyond to make sure our members are taken care of and happy.
We look forward to our continuing our strong partnership with IMS for years to come.